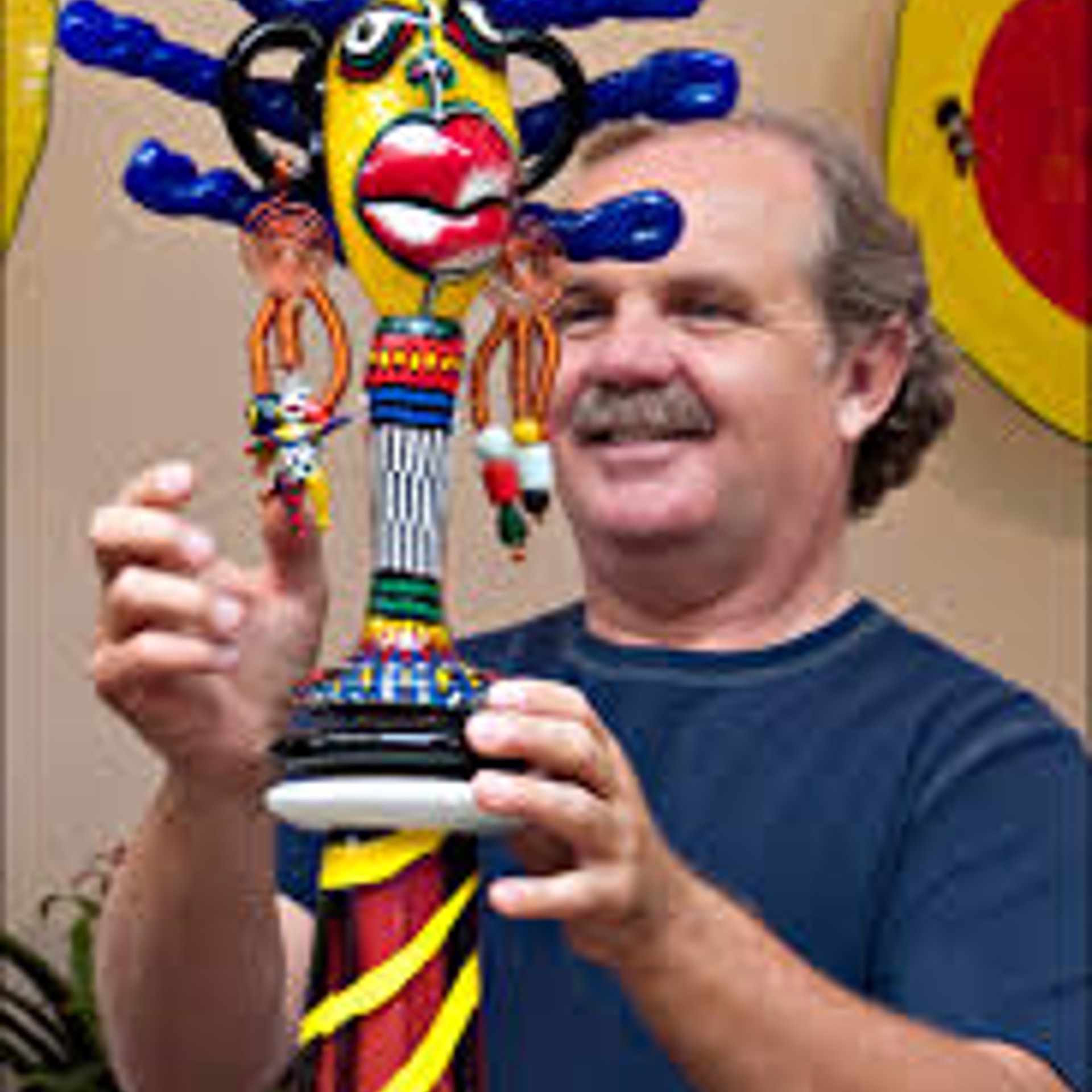 Gavin Heath was born in Cape Town, South Africa on October 23, 1961. Gavin was exposed to a variety of cultures and experiences courtesy of eclectic and progressive parents.
At age six, young Heath would meet, play and dance with the tribal cultural known as Ndebelle. He and sister Colleen would circle huge fires, echoing strange and rhythmical chants while anticipating the next ceremonial dance step. By daylight Heath would join the Ndebelle youth patiently watching the elder women methodically decorate their thatched mud dwellings. The brightly painted and highly contrasting geometric shapes and cultural motifs would slowly unfold and most certainly entertain. These were indeed beautiful gifts for all to share.
Heath would revisit these incredible people as an adult and one day pay tribute to their culture and peaceful heritage.
"I remember well the Ndebelle. These proud people maintained their culture, positivism and dignity despite the suppression and exploitation they were subjected to under apartheid." As one very rebellious and sensation seeking teen, young Heath painted or drew only between prioritized (and generally unapproved) surf excursions. Skipped school, dwindling grades and all the caning associated were easily justified in the mind of a nationally recognized pro/am competitive surfer. Practicing this art and the art of shaping these wave-riding vehicles were clearly Heath's young obsession.
Miraculously, Heath would graduate in 1980 from Progress College in Cape Town and continue surfing competitively while working as a physical education instructor. Maturity however, did very little to mellow Heath, who became more and more anxious and increasingly impatient with the slow pace of political change in South Africa. Close friends and entire cultures were being relocated under apartheid and Nelson Mandela remained behind bars.
A state of emergency was eventually declared and with it, the possibility that citizens would be required to serve their country in this capacity. Heath packed quickly and set off for a "planned" two months travel, promising of course, to return and "serve" his homeland.
Two months soon became more than three years and a comprehensive tour of Europe, travel throughout the Middle East and exploration of The Americas. Heath would occupy himself soul searching, enjoying all forms of art and working when and where he found himself poor. He would work as a carpenter, perform 15th century art restoration or sign on as labor working the "night shift from hell" in a particularly unpleasant bottling factory in London.
California would eventually become home for Heath in 1987. The sun, waves, opportunities and liberty inherent to this land would prompt his settling down….at least geographically. America soon found Heath frantically driven; yet decidedly focused in pursuit of a brand new love. Waves were only marginally explored between long and blazing hot sessions with the furnace and blowpipe. There was no time to lose and no doubt whatsoever, Gavin Heath and glass had become inseparable entities.
Ironically enough, Heath found himself for the first time willingly pursuing formal education. Glass blowing began at Palomar College in San Diego from 1987 to 1990. Development and refinement of existing skills was undertaken at Seattle's famed Pilchuck Glass School in ''89. Heath completed formal pursuit of art education in '92 while blowing glass at California State University at Fullerton.
Gavin's pieces reflect his cultural heritage; they depict both the ancient African goddesses and the traditional family tribe. The vivid colors and shapes further suggest a South African influence. His sculptures are of blown glass, and the faces were painted with glass emulsion.
To classify Gavin Heath is not easily undertaken. Perhaps where tribal, primitive and culturally expressive art embrace a decidedly pop modern feel, within of course. The playful mediums of blown glass, sculpted glass and painting….South Africa artist Gavin Heath may just be pinned down!
The technique and approach to Gavin's art is indeed unique. His work is immediately recognized and certainly not mistaken for any others. The "Afro Doll", a creation for which Heath is perhaps most recognized, effectively combines a playful and deliberate looseness with an intentionally tight approach to the encased painting inherent to each. The result clearly resists definitive classification.
The encased African paintings characterizing much of Heath's work are possible through an elaborate, vulnerable and labor-intensive process. The detailed African designs of his work may be seen between actual layers of glass, on the surface of the glass or both. Emulsified glass (pulverized glass mixed with oils) is treated like paint in a liquefied state and applied with a brush to an initial surface or glass bubble. Designs are created between layers of glass "bubble" that must first cool to permit a painting surface. Following the completion of the painted designs, these pieces are returned to the blowpipe and the glass furnace at 2150º for yet another gathering of glass. After the gathering, the paintings (now encased) may be blown out further and/or shaped as desired. The process may occur many times until the desired effect and depth is created. It is the initial liquification of glass (though quite vulnerable and often unforgiving) that makes the "painting" of Gavin Heath possible. Perfect timing and control of heat are critical or the result becomes washed out in appearance and must be abandoned.
The painted piece will then return to the furnace for a gathering of clear glass that encases the painted surface. The already detailed African paintings are enhanced even more optically when they are successfully encased. The result may be described as an intensification of primary color that "pops out" and intrigues the eye.
Gavin is admittedly reluctant (and quite comical) regarding, both the classification of his work and the influences that have effected his approach to art.
"It is what it is; is it not?" Says Gavin.
Responses to requests for formal influences will vary, but will always include the painting of the Ndebelle tribal people of his homeland. Heath cites the approach and vision of Italian glass artist, Luciano Vistose and enjoys the political wit and vibrant paintings of friend, Ricardo Duffy. Heath recognized the invaluable encouragement of John Stokesbury, a professor of his at California State at Fullerton. Professor Stokesbury balanced praise for Heath's talents with tough advice regarding "paths less traveled" and the distinctions between craft person/reproducer and artist/innovator. Heath also acknowledges the technical influence and wisdom of Don Petty, a friend and mentor, who also helped build his first glass studio. Finally, Heath will acknowledge with pride the playful "Crayola time" spent with his children.
"The images and ideas that colorfully emerge without a plan like those of a child remind me of when I am at my best creatively…that is, when I am playing with glass."
"My work stems from traditional glass techniques in the height of car culture. Living in the Americas and born and raised in South Africa, I see "progression" and "primitive" in one life. This in turn makes me search for simplicity an the spirit of humanity, which is complicated in this reality. Whether my work is conscious, subconscious or both does not matter. Creativity shows spirit, which is of no particular religion or ideal."
Read More